About Anivarya Pumps
get to know us better
Today, efficiency in industrial processes play a major role in providing effective production solution for the industrial sector. At ANI Engineers, we swear by the belief of efficiency that gets in our endeavour to produce world class Rotary Gear Pumps for effective pumping & transfer of all kinds of viscous liquids, oils, corrosive chemicals and petroleum products. With applications in cross section of industries like pharmaceuticals, chemical industries, dyeing and printing houses, paint industries and food & beverages. ANI engineers is all gearing up to be a global player in the world of ROTARY GEAR PUMPS.
Brainchild of an engineer who was driven by a vision to build a company through teamwork, efficiency and innovation. The company has grown manifold to become pioneers in ROTARY GEAR PUMPS manufacturing just a decade later. Initially the aim of the company was to develop high quality positive displacement pumps but slowly looking at the industrial demand of the rotary gear pumps, the company started manufacturing the same.
What began in 1995, as a partnership firm by experienced engineers, ANI Engineers has come a long way to emerge an icon of quality in their respective segment. The partners had 15 years of relevant experience in the field of design, development & manufacturing of Rotary Gear Pumps.
Today, ANI Engineers is passing through the trajectory of rapid growth rate since its inception. Providing quality assurance along with amazing service inclination has helped ANI Engineers to establish goodwill among its buyers and distributors.
Currently the company has earned a good rapport in the Indian market and industries through its remarkable business. Growing organically at 15 per cent annually, with the established nationwide dealer network for appropriate sales and services, the company is all set for a stupendous growth in the years to come.
Heavy duty gear pumps (Positive DisplacementRotary Twin gear Pumps) type AERN series pumps are useful for pumping and transfer of all kind of viscous Liquids and petroleum products.
Internal gear pumps are exceptionally versatile. While they are often used on thin liquids such as solvents and fuel oil, they excel at efficiently pumping thick liquids such as asphalt, chocolate, and adhesives. The useful viscosity range of an internal gear pump is from 1cPs to over 1,000,000cP.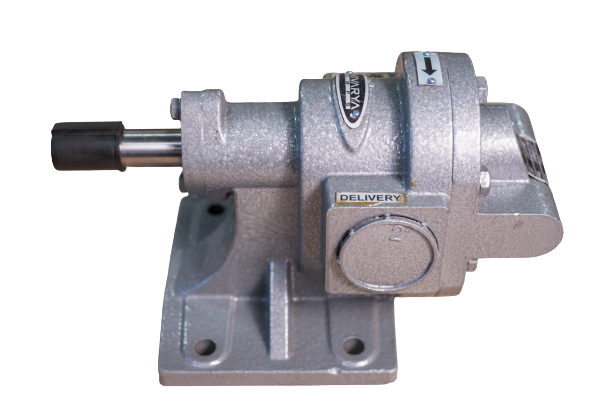 SG SERIES PUMP
Useful for pumping and transfer of all viscous liquids, oils and petroleum products. ANI Engineers offers Helical Gear Pump, SG Series. It is available in cast iron grade with single helical alloy steel gears and hardened and ground shafts. 
Schedule A call
Or
BOOK AN APPOINTMENT
Visit Us
Plot No. 2716, Phase-IV,
G.I.D.C. Estate,
WADHWAN -363 035
Dist : Surendranagar, Gujarat, INDIA.
Call and fax
Phone: +91-2752-241479 / 240479
Cell: +91-94083-59686
Fax: +91-2752-242479